11 September 2018
Local sporting champions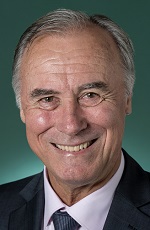 Mr ALEXANDER (Bennelong) (19:45): Australians have remarkable affection for their sport, an affection which has endured for many years as a nation of good sports. Our passion for sport has led us to many successes, whether on the field, in the pool, on the court or on the track—so many successes, in fact, that we are regarded around the world as a sporting nation. It was only recently, in our own backyard, at the Commonwealth Games, that we came together again to celebrate and support the enormous number of talented sports men and women of our nation who represent us with such pride and dignity. We can all see that sport unites and characterises us.
Since the start of my career in this parliament, I've been committed to growing and supporting more local talent by ensuring that the local sporting champions from my electorate of Bennelong receive the financial assistance that they need. The Local Sporting Champions grants are an initiative designed to provide financial assistance for our young sports men and women aged 12 to 18 years. Under this program, successful applicants will receive a grant of around $500 that will be used by them to reduce the cost burden for travel, accommodation, uniforms or equipment when competing, coaching or officiating at a state, national or international level.
As a former sportsman, I am proud of supporting this initiative, as I truly understand what these young athletes have to go through. The sometimes exorbitant costs involved with playing sport competitively on the national or international stage can be a real barrier to progress. This initiative will help reduce the costs for our talented young sports men and women so that they are able to continue their development and passion for their sports.
The recipients of these grants from Bennelong play a wide range of sports, including water polo, baseball, volleyball, gymnastics, AFL, tennis, diving, swimming, netball, touch football and dragon boating. I am greatly excited to announce that the recipients of this round of grants are Marikyra Ho, Jan En Xander Ng, Cordeilia Hay, Adrian Feng, Kate Barry, Alexandra Eedle, Sara Hennessy, Gabriella Stanwix, Joshua Lander, Rinky Hijikata, Joshua Yeon, Zachary Aubry, Taj Barry, Olivia Wunsch, Charli Fidler, Ethan Garrett, Selina Da Silva and Julia Zubak. In addition to representing themselves with pride, they will also be representing their schools, clubs, sporting organisations and community proudly. I have faith in every one of our recipients, our talented and deserving young men and women, that they will follow in the successful footsteps of notable Bennelong athletes, including the late Betty Cuthbert AC MBE, who won gold in the 1962 Commonwealth Games in Perth, and Karen Moras OAM, who won a triple gold in women's swimming at the 1970 British Commonwealth Games.
The fact is that our nation is incredibly successful in sport. However, I think it's important to keep in mind that winning is not the only thing in sport. Sport is about teamwork, whether that is working cooperatively with your fellow teammates in a group environment, like baseball or netball, or playing independently in a sport like tennis or gymnastics. We mustn't forget that, even in solo sports, teamwork is indispensable. Every athlete depends on the guidance, support and assistance of coaches, parents, friends, organisations and, in this case, the government. The government will invest in a range of sports and physical activity initiatives like the Local Sporting Champions grant that will see more Australians more active more often. Ultimately, as our young men and women get ready to head off and compete, I would encourage us all to rally around them so that their talent may be nurtured and so that they achieve the best possible results they can.
As a side note, I would also like to congratulate a special young local, Joanne Tran. Joanne has recently done her school work experience in my office, where she was a great asset. She found fame with a national audience last night with her admirable performance on Q&A. Congratulations, Joanne, and good luck for your bright future. I wish I had shares in you.