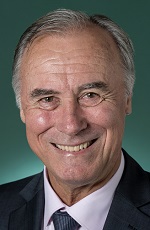 Mr ALEXANDER (Bennelong) (12:39): I second the motion. Thank you to my friend and colleague for raising this important issue today. We are lucky to live in a country that places a strong emphasis on the health and safety of its citizens. Our vaccination rate for five-year-olds is at 94 per cent. The coalition government has been highly successful in offering free vaccines for people aged 65 and over under the National Immunisation Program. The benefits of immunisation are undebatable. Its practice has saved millions of lives worldwide and has protected individuals, their families and their communities from some of the most damaging diseases on this planet.
I am proud to represent an electorate that is leading the charge in developing the very vaccines that go on to save people's lives, with Bennelong playing host to a wide range of pharmaceutical research and manufacturing companies, including Sanofi, who provided the over-65s—a very important age group—with Fluvax this year. Its social benefits for our community are matched with the economic benefits it has provided, with Macquarie Park the fastest growing business district in New South Wales. Despite this, more work needs to be done to ensure that no person in our communities, or in our wider communities globally, is left unprotected against these deadly diseases.
The rates of immunisation worldwide are impressive, especially considering the extent to which medical knowledge has advanced over a relatively short period of time. However, in a population that is growing at an exceptionally fast rate, it is easy to disregard the seemingly small percentage of the population that is still not able to access this protection, with the number often being labelled as immaterial. I do not see how the deaths of 1.5 million children each year from diseases like pneumonia, polio and meningococcal are immaterial. I do not see a lack of vaccination coverage for tetanus or pertussis for 20 million children globally as being immaterial. Yes, we have come a long way and, yes, we are protecting more communities than ever before, but it is still unacceptable that so many children each year are falling victim to diseases that are so easily preventable. I think we would all be in complete concurrence here when I say that 13 cases of contracted polio in 2018 is still 13 too many.
Thanks to organisations like Gavi, the Vaccine Alliance, Australia is able to actively contribute to the access and delivery of immunisation services to people living in the world's poorest countries. In June 2014, the Gavi board improved the implementation of a five-year strategy which, through emphasising the access, efficiency and sustainability of immunisation delivery, will see the vaccination of 300 million children in developing countries, saving five to six million lives long term. Through cooperation between the private and public sectors, we can ensure that the health and wellbeing of people comes first, in our own and broader communities, and that our people are able to prosper and live healthier lives. Australia is also proud to be a co-sponsor of the 70th World Health Assembly, which places an emphasis on global cooperation to meet vaccination goals. Our involvement in these initiatives sends a clear sign that we are prioritising the health of our national and global citizens to ensure that a person's socioeconomic status does not have an impact on the health services they receive.
If we wish to continue being a nation that encourages strong and safe communities' participation in global initiatives, promoting the availability of vaccines to children is imperative. Supporting their strategies and working closely with these initiatives will deliver immeasurable rewards, and providing education on how to carry through these strategies for generations to come will surely lead to the decline and potential eradication of these diseases. Therefore, I urge this government to continue and advance its participation in global vaccination schemes to ensure that every child, regardless of background, is given the same opportunity of survival as everyone else.