24 October 2018
Stryder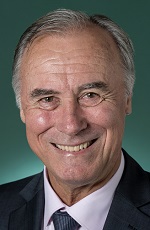 Mr ALEXANDER (Bennelong) (10:03): Bennelong is a tightknit and supportive community. We are blessed with thousands of committed volunteers who help those around them ensure that no-one misses out on the great things we have around us. This is why I'm proud to address the House today on an excellent local organisation in my electorate which helps get people out and about, the Stryder bus service. Formerly known as Ryde Hunters
Hill Community Transport, Stryder has an exceptional record of 30 years of service as a community transport provider and has recently rebranded so they can expand their services into other suburbs. For the elderly and less mobile in our community, a lack of safe, dependable transport can be debilitating. It prohibits them from doing simple tasks such as going to the shops or seeing a movie. This is why organisations such as Stryder are so important. They give the opportunity for movement to some of our most disadvantaged. In keeping with this mission, Stryder offers a number of different services ranging from shopping transport to individual transport and even social outings to places as diverse as the Central Coast, the Illawarra and the Southern Highlands.
Quite recently I visited Stryder's headquarters to meet their staff and inspect their new rebranded fleet of vehicles. They very kindly picked me up from the office and showed me firsthand the quality of their service. I was particularly taken by the attention to detail. Each bus is fitted with accessibility features such as collapsible supports at the bus doors and every vehicle was immaculately clean. We were driven around on the day by Stryder's most experienced driver, Yaqub Barikzai, who has worked there for over 20 years. I was very moved by Yaqub's story. He left Afghanistan in the early 1990s after the Taliban had come to power and has worked for Stryder, assisting the community ever since. Moreover, I would like to thank Mr Ian Dear, the president of Stryder, as well as Virginia Coy, the general manager, and the rest of their team for their exceptional work. I would also add that Stryder's work is made possible by dozens of volunteers, who give up their time to help the organisation and make the driving trips.
Stryder's motto is 'Going places'—a fitting motto for their service. But I would like to add that it embodies the spirit of their organisation and accurately reflects the culture of their service. They are certainly going places and our community is so much better off for that.