17 September 2018
R U OK? day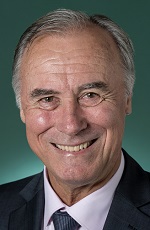 Mr ALEXANDER (Bennelong) (10:08): I would like to thank the member for Franklin for raising this vitally important conversation, which can save lives. I speak today about an issue that faces one in every three Australians—an organisation that travels across 14,000 kilometres reaching 25 communities to reiterate that same all-important question: 'Are you okay?' The 13th of September last week was R U OK? Day—the day we all stop to check in on our friends, family and colleagues to make sure they aren't weighed under by the burden of mental health issues. The R U OK? campaign is one of the primary organisations aiding the mental health issue in Australia. This health issue is serious, has drastic consequences for our communities and poses a great risk to the wellbeing of our people. The statistics are heartbreaking and deeply disturbing, such as the 65,000 attempted suicides in the year 2016 and, sadly, the 2,866 Australians who took their own lives in the last year.
This year we took the conversation on the road, with the R U OK? Conversation Convoy, which travelled across Australia, making sure everyone was aware of the conversation we need to have. This year's theme was 'Make every day R U OK? Day', recognising that we need to be checking in on our friends every day of the year, not just on 13 September. We must all spread the message that it is perfectly fine to be struggling with the toils of life and that your family, friends and health services are there to take care of you. Considering that one in five Australians experience some form of mental health every year, it is of the utmost importance that, as a nation, we are there to support those who are not coping—that we are there to help our mates and family over the line and that we are there to talk to our fellow Australians who may not be doing so well. It is for these reasons that I support R U OK? and remind all of us that it's our duty to decrease the stigma around mental health and raise community awareness around preventing suicide. This can be as simple as pulling your friend aside and asking that easy and important question. I call on the rest of government at all levels to put their best foot forward and prevent the tragedy of suicide. Tell all the people we know that we are there for them through the best and the worst.
Suicide affects Australians every day of the year. In the last fortnight, members of my office have been touched by the loss of a great friend and great talent, Luke Liang. Luke was one of the up-and-coming stars of the music industry, a session musician who played on stages around the world with the likes of Alex the Astronaut, Jarryd James, Montaigne and many more. But more important than his great talent was his great humility and kindness. I'm told he was one of the most genuine, decent people anyone could ever hope to meet. But what matters for this debate today is that Luke seemed fine. He was always smiling and seemed carefree. The world was at his feet and he was capable of anything. We can never forget that mental health issues don't necessarily look like mental health issues, and that is why we must ask: 'Are you okay?'
The R U OK? organisation is leading the charge to reduce stigma and invite the mentally unwell to ask for support through those closest to them, and they deserve our highest respect. I thank the organisation dearly for the lives they have saved and the awareness they have spread. I hope that one day we will no longer need this day to remind us to check in on our friends; it will simply be a part of our conversation.