18 September 2018
My Health records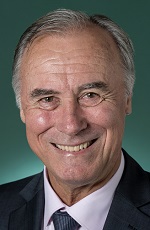 Mr ALEXANDER (Bennelong) (18:52): I rise tonight in support of this important bill. The My Health Records Amendment (Strengthening Privacy) Bill 2018 will amend the My Health Records Act 2012 to strengthen its privacy protections. The changes remove any doubt as to how seriously the Australian government takes the security of information stored in the My Health Record system. This security is paramount. It is imperative that people's health records are kept private and secure. It's also critical that people's healthcare services are the best they can be and that the system continuously improves. The system is already delivering important health and electronic outcomes for Australians through avoided hospital admissions, fewer adverse drug events, reduced duplication of tests, better coordination of care for people seeing multiple healthcare providers and better-informed treatment decisions. These outcomes make the system work better for Australians.
The president of the AMA, Mr Tony Bartone, said in The Age newspaper on 23 July 2018:
The electronic record can save lives. A Brisbane GP recently told a Senate inquiry how the earlier version of the My Health Record saved the life of one of his patients.
He said that the hospital was able to access the information that was in that electronic record and made the decision not give the diabetic patient, who was in a coma, the usual antibiotic that would have been administered for sepsis. This person had a severe anaphylactic allergy to that antibiotic and, if it had been given, would have been killed. That is a powerful example of the value of an electronic health record.
Already six million Australians have a My Health Record, and the system has been operating without incident since 2012. Notwithstanding the performance of the system to date and that its strong security and privacy controls were developed in close consultation with stakeholders, it's important that we move quickly to reassure the public of the government's commitment to the privacy of each individual's health information. The bill will remove the ability of the system operator—in this case, the Australian Digital Health Agency—to disclose health information to law enforcement agencies or other government bodies without a court order or the consumer's express consent. The bill will also require the system operator to delete health information it holds for any consumer who has ever cancelled their My Health Record. To support these amendments, the opt-out period has been extended by a month, to 15 November 2018. This provides time for individuals to discuss My Health Record with their trusted healthcare provider and then decide for themselves whether they want a My Health Record at this point in time.
The president-elect of the Royal Australian College of General Practitioners, Dr Harry Nespolon, supports the amendment strongly. On 31 July 2018 he said the following in a press release:
The Royal Australian College of General Practitioners … commends the Federal Government's willingness to strengthen the privacy provisions under the My Health Record Act …Changes to the legislation that remove any questions about who may be able to access the records ensure that the records will be able to be used in line with the RACGP's position statement on My Health Records.
Choice is central to a health records system that will remain sustainable and usable into the future. People will be able to set their own access controls to limit access to their whole My Health Record or to a particular document in it. They can choose what information goes in. They can choose to be notified if certain things occur, such as if someone new accesses it, and they can choose whether their de-identified information can be used for research or public health purposes. And, importantly, they can choose at any time to cancel their My Health Record. This choice is important for stakeholders such as the Office of the Australian Information Commissioner's Acting Australian Information Commissioner and Acting Privacy Commissioner, Angelene Falk. On 1 August 2018 she said:
Significantly, the proposed amendment to allow an individual to permanently delete their record will give the community greater control over their health information.
Human Rights Commissioner, Edward Santow, tweeted on 1 August the following:
I particularly welcome the Act being amended to require a court order before releasing any My Health Record information without the individual's consent.
This will give greater certainty about how individuals' health information will be used in the My Health Record system.
It gives me peace of mind when people like Angelene Falk and Edward Santow publicly say the system will protect the privacy of Australians.
The My Health Records Amendment (Strengthening Privacy) Bill 2018 will especially benefit those in our community who are less well-off, those who frequently change their address, and those in rural and remote areas. It is the more vulnerable in our community who may find it challenging to navigate the healthcare system effectively. Making healthcare outcomes better for these people will make their lives better. When more people are healthier and when they recover quicker from ailments, the whole community benefits. When a doctor can immediately see the clinical information of a person they are seeing for the first time, they can move more quickly and more effectively to cure their new patient. A digital record that is safe and secure is a wonderful health service. It is the natural extension of the technological advancement that we've seen revolutionise our modern world. We've seen the downside of technological advancement, certainly, and there are a lot of people out there who say technological advancement is pure evil. Well, this new application of wonderful advancements in digital and online technology will be a massive power for good in our country.
I commend to the House this bill and the amendments that provide certainty for Australians and I look forward to not opting out of this brilliant new health reform. Unlike the previous speaker, the member for Petrie, Luke Howarth, I have not had the same doctor since my birth, for obvious reasons, and I'm glad that we live in a country where people come first and where they can opt out if they want, for it is choice that makes our country the great country that it is.