17 October 2018
Early learning schools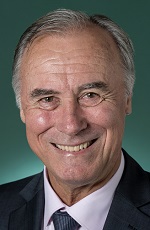 Mr ALEXANDER

(

Bennelong

) (15:57): Firstly, I'd like to compliment the member for Gellibrand for his
most genuine contribution. Thank you to those opposite for bringing forward a debate about preschools, and I mean that, because preschool is a most important time in a child's development. Studies regularly demonstrate that investment in the earliest years of a person's life pays dividends throughout their education and their lifebeyond. That's why the government is investing so much in this critical area of education. In addition to investingrecord funding of $8.3 billion this financial year in the childcare system, the coalition government's funding for preschool is secure until the end of 2019, with around $870 million available to support preschools throughout 2018-19. With funding locked in until 2020, we have certainty and time for this work to be done properly to ensure future funding investments are aimed at achieving the best outcomes for our children.
We are determined that future arrangements address issues in the current system such as attendance, particularly amongst vulnerable, disadvantaged and Indigenous children. We've seen results in terms of increased enrolments,but we need future arrangements to boost attendance and to ensure children are getting the best outcomes from their early learning opportunities. The coalition government is further committed to preschool in the child carepackage that commenced on 2 July this year. We're investing record funding of $8.3 billion this financial year inthe childcare system. The coalition has removed the activity test for preschool-age children to attend preschool programs in childcare so that preschool-age children can attend without the family needing to meet the activity test. These families can therefore receive the applicable childcare subsidy that their family is entitled to.
This is all excellent news for my local preschool and childcare centres, many of which I have had the pleasure of visiting just this year. Just a few months ago, I was at the Clovel Early Learning Centre in Eastwood to celebrate great local centres through Early Childhood Education Week. Clovel is an excellent place, with committed staff and wonderful children. They often say that the best measure of an institution is the longevity of the staff, and, by that measure, Clovel must come out near the top, with the education leader, Theresa, still working there after21 years, and a number of other employees having been there for more than a decade.
Bennelong is at the cutting edge of preschool education. Our local centres, particularly the Top Ryde Early Learning Centre, have been integral in the trial and expansion of the Early Learning Languages Australia program, or ELLA. ELLA is a language app for preschool children, which, after its highly successful trial at TopRyde, is now rolling out to schools across Australia. It has given our local children the opportunity to experience Chinese, Japanese, Indonesian, French or Arabic languages through apps which are being delivered to selected preschools across Australia. It's a great opportunity for our preschoolers to make an early start on becoming familiar with another language, and I'm delighted that the government has invested $9.8 million in the languages app to help to revive language study in Australia's early education schools and universities.
Finally, another great early childhood program in my electorate is the wonderful CCA's Mobile Play Group. We launched their Mobile Play Group van earlier this year, and, since then, it has been providing structured play resources to aid early learning childhood development, and will develop skills such as literacy, numeracy,science, construction, art, craft, music, group activities and imaginative play. The van's mobility means that it can reach families across the electorate. The CCA has a particular focus on engaging culturally and linguistically diverse families, which is very beneficial in Bennelong, as we are proud of being a very strong multicultural community. CCA aims to have 50 per cent of playgroups targeting children and their grandparents of Chinese background, as evidence suggests that these families face greater obstacles to accessing vital early childhood learning resources. I would like to add that this project has only come about through a generous grant fromthe federal government's Stronger Communities partnership grant program, which makes high-quality valuableprojects such as these viable.