17 October 2018
Development in Bennelong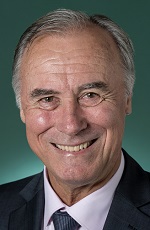 Mr ALEXANDER (Bennelong) (11:10): I've spoken many times in this chamber about decentralisation, overdevelopment and matters of planning. I do this because development is one of the biggest issues facing our community. Our roads are clogged and our sports fields are disappearing as our suburbs grow from single-storey dwellings to blocks of units that rise over 20 floors. I'm not against high-rise in principle, but, as discussed in my last inquiry, development without sufficiently planned infrastructure only compounds the problems we face in our crowded suburbs.

A case in point is the unfolding tragedy of the giant new building, fondly known as 'Laxale towers', that will tower over our community. Laxale towers is a 60-storey residential development proposed for 112 Talavera Road, Macquarie Park. It is causally named after the Labor mayor of Ryde, who has described this proposal as the best deal for ratepayers that council could manage. Laxale towers will devastate our already overdeveloped community in Macquarie Park. The city of Ryde has failed to follow any advice on coordinating planning with infrastructure. Anyone who has tried to drive up Talavera Road during peak hour will know that it's not just congested but represents a chance for cheap parking. You can stay there for an hour or so without having to move your car. Talavera Road serves the local businesses. Placing hundreds of new residents and their cars on this road will only lead to greater congestion. This tower is not just tall by local standards, under the leadership of Mayor Laxale. The tower that has been proposed will eclipse even Sydney's tallest building, Chifley tower. With the ground floor 83 metres above sea level and the top level stretching 200 metres into the sky, Laxale towers will become Sydney's highest building, not far off the size of Trump tower in New York. It is so tall that it requires approval from the aviation industry, despite it being more than 20 kilometres from the airport.
You would think a development of this scale would come with a record contribution to community infrastructure, but, no, we don't even have this consolation. In an overall complex of 1,556 apartments the best this mayor seems to have been able to secure is an upgrade to an existing park and a handful of affordable housing units, minuscule benefit that will profit developers not the community. Laxale towers is a symbol of hypocrisy and has been condemned widely by residents. I join with my community in opposing this development and urge the mayor to do the same.